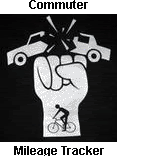 While I'm not into Mountain biking (I'd kill myself for sure),
DORBA
has a pretty decent website with a
commuter forum
. Some pretty good information is available if you're new to commuting, or interested in starting. There are more than a few bicycle commuters, a couple of bike messengers, and at least two local bike shop owners that post there on a regular basis. It would be a huge waste of resources not to take advantage of something like this if you were new to urban riding.
One of the neater things they are doing is that they are logging collective commuter miles (both ridden miles and public transportation miles) and extrapolating that data. I think it's a pretty neat idea to take this information (that I log anyway) and use it for the bigger picture. Also, a couple of the guys have worked towards things like bike racks on buses in Dallas, changing the rules (and attitudes) concerning bikes on the light rail (which used to be asinine) and other such things. While I haven't been on their message board long, I've enjoyed what I've seen so far.