Finally the new bike routes are here.
Yes I know this is not completely new news, but I was waiting for a chance to get some pics. Plus I've been busy and not everyone is familiar with them. Anyway...
A BIG thanks to everyone who has been working on this. Jim Wilson at
LMRA Bike Club
,
Texas Bicycle Coalition
, specifically Dr. Byron de Sousa,
Fort Worth Streams and Valleys
, and countless other cyclist that have been involved in this movement. The letters, attendance at City Council meetings, and general involvement has been awesome. Another big thanks goes out to the
Fort Worth City Council
for seeing this through. I know I'm leaving people out, but I've had more than my fair share of Single Malt Irish Whiskey for the evening so we're working without a net!
I've been riding some of these routes for a while now and really enjoy them. They seem to work out pretty well. For those of you that aren't familiar with the concept, a bike route differs from a bike lane on a couple of levels. A bike lane is a dedicated lane that locks you into that lane. Good news is it belongs specifically to you the rider. This is great in rush hour, or other heavy traffic situations as you can just scoot on by. The bad news is that it seems to be where all the glass and road debris seems to always end up. Also seems to be a magnet for poorly parked cars.
A bike route however, is designed to let the cyclist, and motorist, know that this is a decent street to ride down. Usually due to lower traffic volumes, wider shoulders or possibly dedicated bike lanes, and direct lines to other bike routes. Similar to the Interstate system, but obviously on a much smaller scale.
Here's a map with the bike routes out there:
This is an older map, but it looks like most of the routes I rode were there. If I find more current map I'll update it.
I decided to get out there on the fixed gear and take some pics. I'll only post a few.
This is what the bike route signs look like: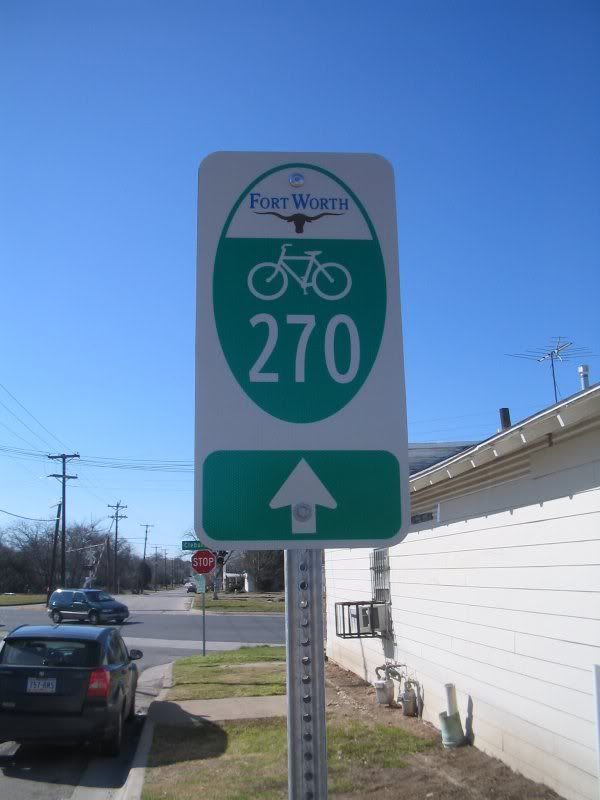 Just for your information, if it's a two number designation then the route goes North and South. If the sign has a three number designation (like the one pictured), then the route runs East/West. If you have a general idea of where you want to go, you can pretty much follow these all the way up to Southlake. I don't know why you would want to go to Southlake, but it's possible. I know, I've done it. I didn't like it, but it is possible.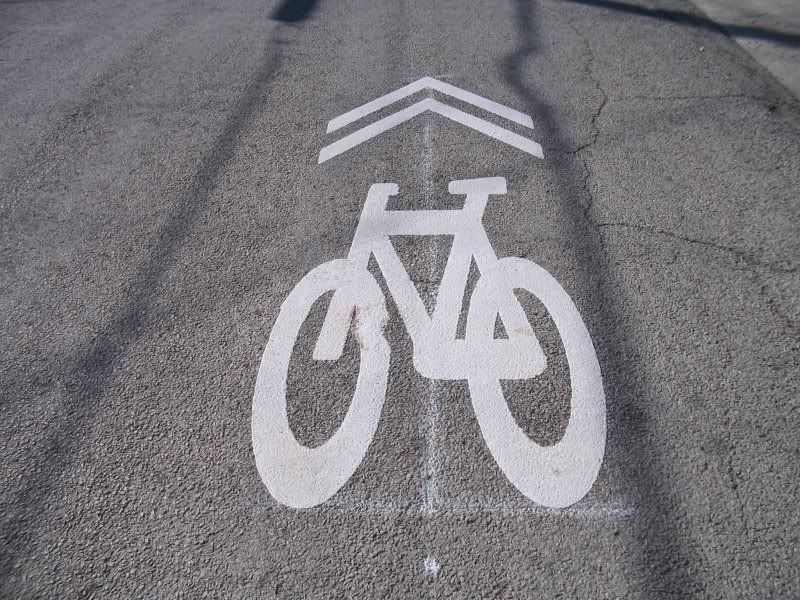 Another thing you'll notice is on the streets. There is a bicycle imprint on the street with arrows designating the direction of travel. Someone told me it's to let you know which side of the street to be on. This makes sense to me, as many of the other bicycle commuters I see in the neighboring areas are Hispanic. From what I've read, the common practice in Mexico and Central/South America is to ride against traffic. Which is exactly the opposite of what we do here.
The road markings are a decent size and seem to
be placed about every block or so. One in each direction. I think this will work out nicely.
To finish up my ride I hopped on the trail and put in a few miles. It was a beautiful day today. Way too nice to waste sitting around. I actually felt bad that I wasted as much time at home as I did. I could have gotten an incredible ride in today had I only left earlier. Well, I made up for that by tackling Taylor Street hill. It's bad enough on a geared bike. For a fixed gear pushing out 70 gear inches, it can be painful.
Here's the view from the bottom. It has a false flat about halfway up then gets even steeper as it continues onward.
The view from the top is pretty sweet though. It's always nice to survive a climb. Especially since I'm not a climber.
The weather is getting nicer, so all you fair weather cyclist get ready. I think you'll be pleasantly surprised when you pull out that bike to start commuting again and see the changes that have come about over the winter.