While going through my pictures, I realized that I didn't go over the final item I utilized the most on my trip. The one item that, without it, would not have been a bike tour.
Yes, my Surly Cross Check.
The Surly Cross Check is primarily designed as a
Cyclocross
racing bike (something that appears to be constantly up for debate on most internet bike forums) and a bulletproof commuter bike (not even close to being up for debate on those very same forums). However, everyone seems to pretty much agree on one thing. It's not made for touring, with the exception of credit card touring (where you don't carry much, if any, equipment with you and stay in a hotel every night).
Well I've been riding the Cross Check for a little over two years now and felt pretty comfortable with the idea of setting it up for a real tour. This bike is a workhorse. I'm constantly amazed at the types of loads it can carry without getting squirrelly. So putting more racks and some panniers on it didn't seem that far fetched to me.
First off, I'll give you an idea of how it was set up:
For my drivetrain, I have a Campagnolo Veloce triple up front. The chainrings are 52/42/30. I was able to keep my Ultegra front dérailleur on the bike, which works perfectly. Which is odd considering that it is a double and made by Shimano. Ponder that one for a while.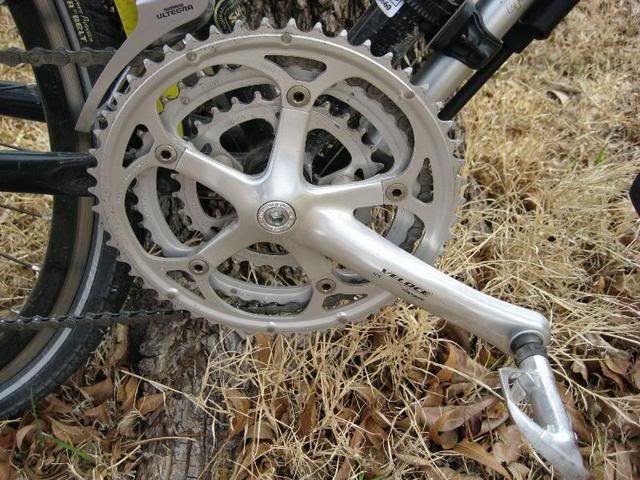 On the rear wheel, I have a Shimano XT Mountain bike cassette 11-34 with a Shimano XT Rear Dérailleur. This was the best way to give me the range I needed for loaded touring. Believe me, I used it too. I was never so glad to have a 34 tooth cog on the rear while we were fighting the hills and headwind on that first day.
I was able to get away with this unholy mix of components by using Shimano Dura Ace Bar End shifters. With the friction actuation up front, it allowed me to ignore the spacing of the Campy triple and set it up how I wanted to. I understand why they are the end all, be all for touring shifters. Pretty much bulletproof, allow for both
index
and
friction
shifting, cheap, and they flat out work. Friction shifting was very nice up front. I basically had infinite trim to adjust my front shifting patterns. Nice when I was going up a hill and trying to shift under a full load. Triples sometimes have a bad habit of not wanting to shift in those instances.
For my pump, I chose to bring my
Topeak Road Morph
pump. It's small, works great, has a pressure gauge, and fit nicely under my downtube without getting in the way. Which was good, because when I got done I didn't have much space left for anything else.
It's really an awesome pump. I don't carry it with me nearly as much as I should. I generally carry my full size frame pumps with me. While bigger, they are sleek and fit under my top tube nicely. However, it is nice to be able to take a compact pump and use it like a floor pump. The foot peg and T-handle make up for the short stroke. I'm glad I brought it, I'll probably start using it more often. It was especially useful for me, as I like to try and check my tire pressure pretty regularly. The inline gauge really made that easy.
Of course you'll also notice my yellow fenders. I like to be noticed and yellow really seems to get peoples attention. Not only in low light conditions, but during the day as well.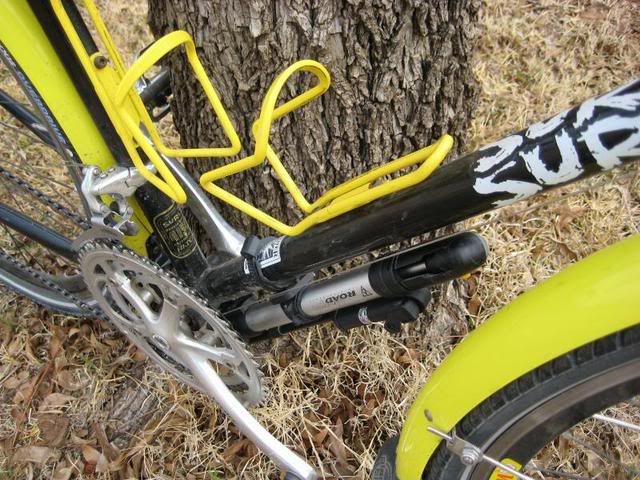 The wheels I used for this bike were my Velocity Deep V's laced to a set of Shimano 105 hubs. 32 spokes in the front, 36 in the rear. A bulletproof, handbuilt wheel from Bernie at Panther City Bicycles. I can't even tell you how many miles I've put on these wheels, but if it has not been ten thousand, then it's scaring the heck out of that number, and they still roll as true now as the day they were built almost 3 years ago. I'm a big believer in the Deep V's, I don't mind a heavier wheel as I'm a heavier guy. The added strength that these wheels give me is a great peace of mind. Especially since other wheels I've had in the past have given me problems.
My tires are Maxxis Overdrives in 700x38. In reality, when I measured them with a pair of calipers they are actually 40mm wide. I was a little concerned about using a tire this big on tour. It's a big heavy tire that isn't really fast and I generally prefer a narrower, faster tire (700x28 is the perfect commuter tire IMO). Once we got under way though, I'm really glad I had this tire. Under load, it rolled smoothly, soaked up the bumps, and handled very well. Even on some pretty fast descents.
The Kevlar belt makes a difference too. It the picture, I've probably got about 60 goathead thorns in that tire. Still no flat a week later.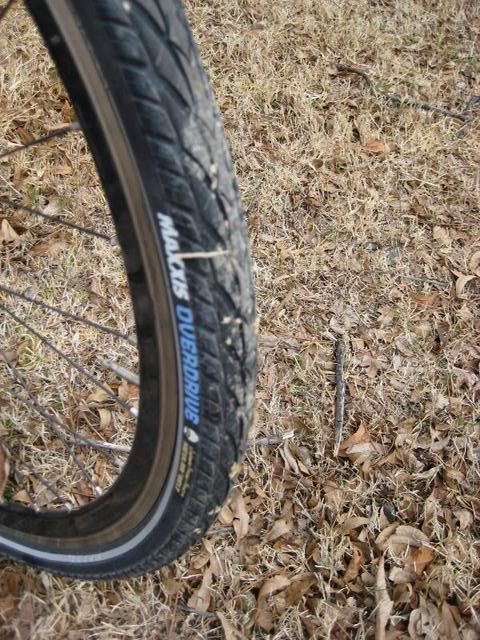 When it got to the racks, I wasn't sure what to do. I have a set of Sackaroo front panniers (made by Arkel- a stealth deal if I ever saw one) and I wanted to utilize these. When I use them for daily commuting, I just throw them on my rear rack and go. However, I knew I'd need more space so I had to find a way to mount them on the front.
I was going to buy a nice Tubus front rack, or even an Old Man Mountain, but it was hard to justify spending $100.00 on a rack that I'd probably only use once as the next bike I get won't need a front rack (hurry up and get here Big Dummy!). So I searched around online and found one available at
Performance Bike for $14.99
. While I generally prefer to shop local if I can, this was a good enough deal to drag me over there. Money well spent. Fairly easy to install and get centered. It did the job and held my panniers nicely.
The smaller silver rack you see above it is my old Nitto Campee rack. Not very easy to find, but if you want a small front rack... this is the one to get. Designed more for supporting a large handlebar bag like those crazy Europeans use, or for
smaller higher mounted bags
. They don't call them the Campee anymore, but I think you can still get them from
Rivendell
bike if they ever have them in stock.
I mounted it to hold my tent and help support my handlebar bag. It was the perfect size for my tent. I'm very glad I thought of it. It's a bit heavy, considering the small size of the rack... but it did the job nicely. Also, if you're the type of person using dyno powered lights, it has mounting tabs on the front and bottom side for your lights.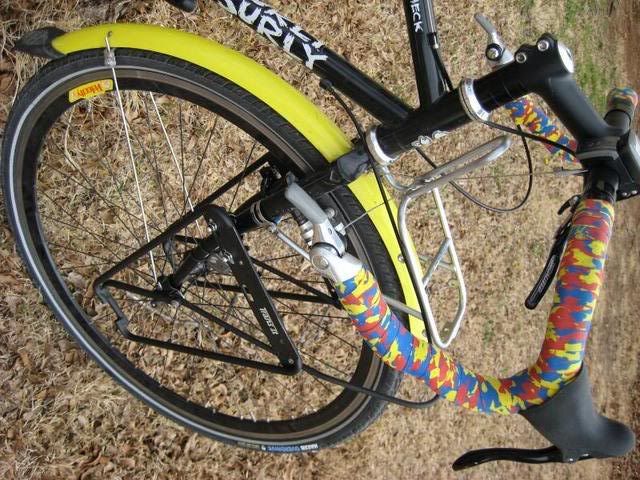 (notice the Bar End Shifters mentioned earlier)

The rear rack is just an old Topeak rack that was designed for their trunk bag system. I've had it longer than most other bike stuff I own. I have more than gotten my money's worth out of this system. Coupled with my old
MTX trunk bag
, I have a secure platform that is easy to install or remove. It also has small panniers. A definite plus for me on this bike. Those smaller panniers kept me from killing myself on this tour. The Cross Check has shorter chain stays than a "real" touring bike, so using full size panniers on the back would probably mean that I'd hit the heel of my foot on the bag with just about every pedal stroke. This could either be a mild irritant, or incredibly dangerous, depending on the amount of strike.
Even with the smaller rear pannier space, I really didn't feel like I was short of space. Sure I was crammed to the gills, but I didn't leave anything behind due to lack of available space.
In hindsight I should have!
Completely loaded, my Surly Cross Check was able to carry me and about 70-75 pounds of gear. That's a bunch of stuff. It was heavy, but steered well. At lower speeds I could feel a little wobble in the fork. However, Bernie was riding a Long Haul Trucker and his fork felt about the same. After my first day in the saddle, I had acclimated myself to the new ride characteristics imparted by the heavy load. It didn't feel quirky or overly sluggish with the steering.
I will say this though, riding a loaded touring bike is not like anything else. I noticed my position in the saddle changed. It didn't change very much, but it did change enough to give me a few new tender spots that were never a problem before. Also, I couldn't really get up out of the saddle to stretch. Pedaling while out of the saddle is out of the question, unless you want to fall over. There were a few times that I was able to stretch briefly, but only on downhills. I never really "coasted", so I had to take advantage of stretch opportunities when I could.
Another thing I noticed was mounting and dismounting wasn't as easy. Part of it was all the equipment piled up on back, part was the weight, and part was just being tired. A sloping top tube would probably me a little easier to deal with in this respect.
Overall, I'd say if you have a Cross Check and want to tour... go for it. While you might think there are limitations, take a little time to think over those challenges and you'll do just fine. For a cross country tour, you might think about some extra storage in the back, but I had mine set up for 7 days with no real deficit. I'm sure an experienced tourer could probably help you address those issues. Mine did great, handled the loads well, and was as comfortable as it has always been. About all you can ask for in a loaded touring bike.
Ali G Approved as well.
----------------
Now playing:
Harald Johnson, Jarle Vespestad & Tord Gustavsen - Curtains Aside
via FoxyTunes