Yes, these tents do actually exist.  The only thing rarer in this world is the elusive Surly Big Dummy (which may, or may not, ever show up).  When I was researching for the trip, this was a tent I was interested in but couldn't find any information on.
It has both good and bad points.  We'll start off with the tent itself.
This tent is incredibly light.  My packed weight was right at 2 pounds.  Incredibly compact as well.  It fit perfectly on the small Nitto Campee front rack that I had on my Cross Check (it's the silver rack above the front fender on the other pics- the tent is the grey bag).
Inside that grey compression bag is a silver bag that contains the tent, stakes, and poles.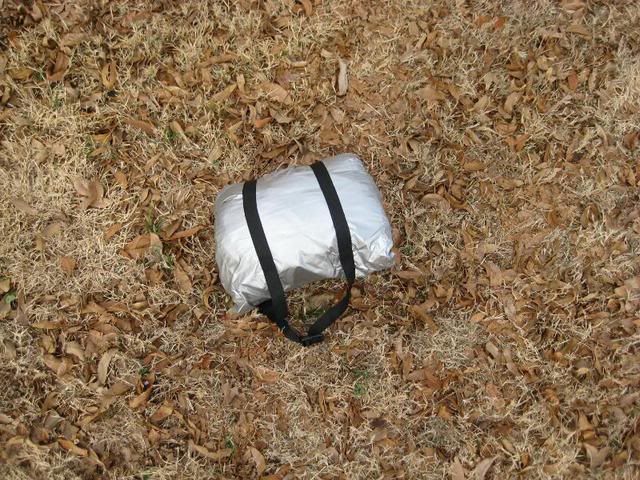 Topeak actually did a really nice job on the storage bag.  Separate pocket for stakes and the two diminutive tent poles.  While there is a larger mesh lined pocket for the tent itself.
The tent actually lays out quickly and easily.  I can get it completely set up in about 5 minutes.  There are really only 4 parts.  The tent, the stakes, the poles, and the odd tire shaped parts.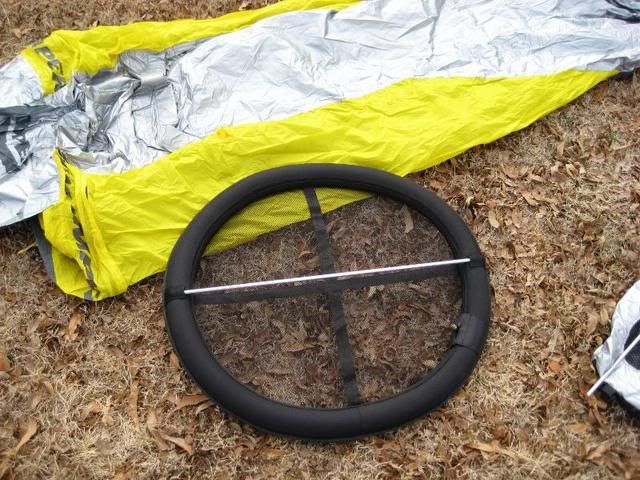 The tire shaped parts are tubes covered in mesh and support fabric.  The smaller one is a 16 inch tube, while the larger is a 26 inch (or 700c) tube.  Both tubes were included with the tent, an unexpected surprise.  As a side note, this also helps with your overall weight as one of your spare tubes can be this one.  Since they only hold about 15 psi, even if you shred one of your spares it will probably hold up well enough to support this tent after you patch it.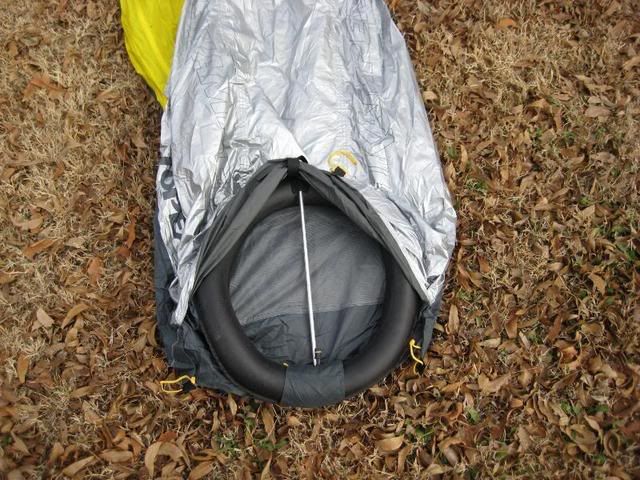 A pretty ingenious design really.  Helps reduce the number of poles needed to set up the tent.  This not only saves on weight, but the space needed to pack the tent down.
The tent stakes out very easily.  With vents located on each end.  Airflow is not a problem with this tent.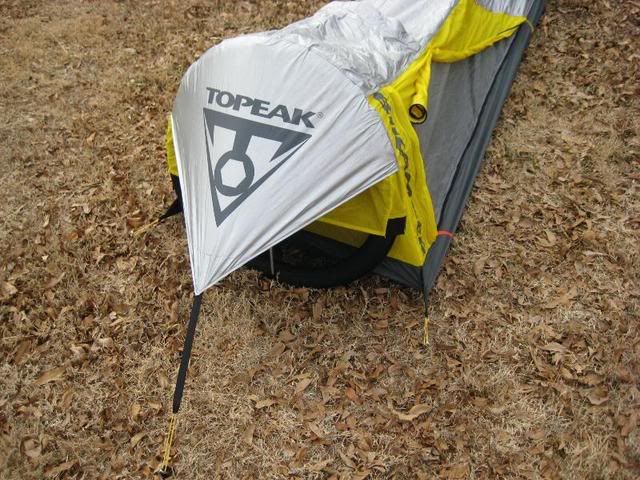 Bryan referred to these tents as space coffins.  Fairly close to the truth.  However, it does have the nice option of a hood scoop.  It really helps with the air flow.
Also, you'll notice on the side of the tent is this odd tie down (On the right side of the pic).  At first I just assumed it was for ventilation only.  However I did learn another perk to this design.  Bernie, if you read this before you get back... it also helps shed water and adds support in the middle.  Something it would have been nice to know about in Hamilton.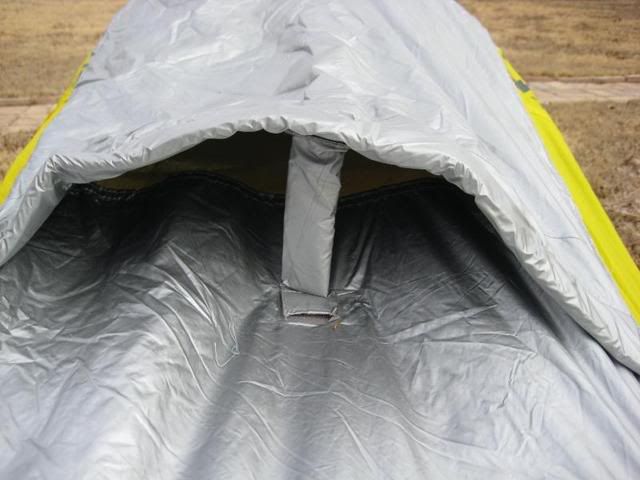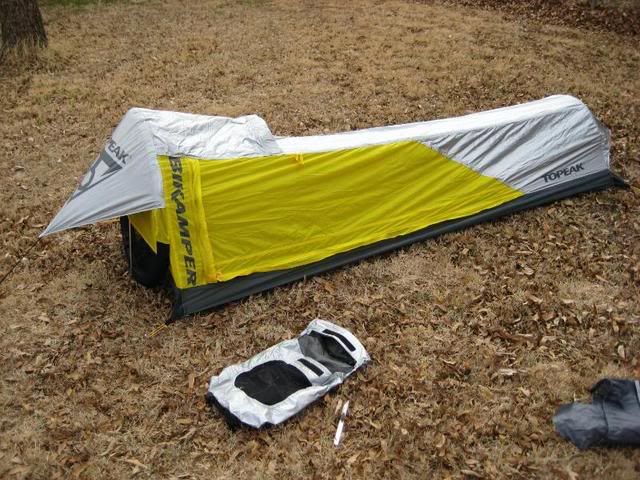 Entry is from the side.  In addition to the side, there is a nice mesh.  There is more than enough ventilation, however I felt just fine when the temps were in the low 30's.  Just orient it appropriately with the wind.
Here is the view from the inside.  It is more than long enough to get comfy in, there is also more head room than I expected.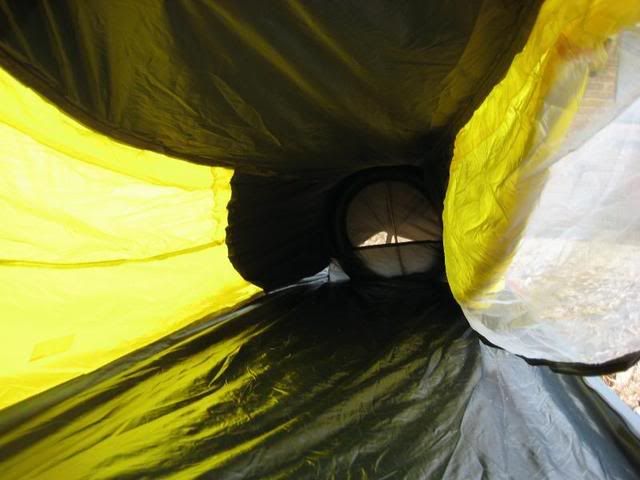 The high points of this tent:
1. Incredibly light- a 2 pound shelter is nothing to sneeze at.
2. Packs down very small- It is about the size of a football, perhaps a bit smaller.
3. Quick and Easy to set up.  Takes me about 5 minutes, or a bit more.  
4. Carries an extra tube for your bike.
5. If you have do any stealth camping, this tent offers an incredibly small silhouette that would be incredibly easy to conceal with just a little bit of work.  Especially if the foliage in your area happens to be yellow and silver.
6. There is no fly for this tent.  A great plus if you're trying to throw up a tent quickly to beat a rainstorm or the like.
The low points of this tent:
1. It is basically a beefed up Bivy shelter.  If you are claustrophobic, then this is not the tent for you.
2. It can be a bit cramped, when you put in your Thermarest pad, and a nice thick sleeping bag you will feel pretty close to the roof.  However I think my summerweight bag would be just fine in this tent.
3. There is no vestibule.  Your equipment will either have to sit out in the open, or you will need to bring a small tarp to cover it up.
4. Not much room to change clothes.  Changing clothes in this tent is probably pretty much akin to throwing on some clothes under the bed and preparing your escape while an enraged husband is looking in the closet for you.  Merely speculation on my part, but both situations seem pretty uncomfortable.
5. If you want a footprint for this tent, you'll have to come up with something on your own.  I haven't seen anything on the market yet, but I'm sure you could find something.
6. While this probably isn't much of a problem it is worth mentioning, the included tubes have schrader valves.  If you don't have a compatible pump, it can be blown up manually with provided adapter/cap.
7. There is no fly for this tent.  In this instance, the single wall construction can be a bad thing.  When I was sleeping in my tent through the rainstorm, I fared pretty well.  However, my shoes were touching the sides of the tent and they got a little wet.  I think it was mainly condensation, but a double wall tent or a tent with a fly probably would have prevented with this.
Overall, I like the Topeak Bikamper EXP.  While it doesn't offer me the same room as the Big Agnes Seedhouse SL1 (the other ultralight tent I was considering), or a Hennessy Hammock (which seems to be wasted money in most parts of Texas)... I think it will serve me well.
If you're  looking for an ultralight touring tent for cycling, that is fairly easy to set up and offers simple shelter on the road, then this could very well be the tent for you.