The second item I'll be reviewing from my trip is the Solio Classic.
The Solio is a really unique device.  It is a Hybrid Charger, meaning I can either store power in it while plugged in or open it up and use the solar cells to charge it up.  What can I do with this power?  Well I can charge just about anything that I took on my trip with me.  The provided tips work with several popular mobile phones, however the only two tips I needed were the universal female USB tip, and the male mini USB tip (able to charge my phone, camera, and iPod with these two tips) .  The retail price for this item is around $90.00, however it was money well spent in my opinion.  As I'll be using it extensively for the next few years.
Yes, with the supplied tips I was able to charge anything I brought on my trip.  Of course for me that was mainly my phone.  It worked out perfectly, just plugged it in and left it alone.  It was this item that allowed me to blog while we were out on the road.
When I wasn't using it, the Solio folded up nicely and the weight was negligible.  It's incredible that technology has progressed to the point where I was able to carry a device like this with a weight penalty that was about the same as my smartphone.  When folded out, it fit nicely on my rear bag.  As you can see in the picture, I ran a cord through the center hole.  This allowed me to loop it securely.  On the rainy days I was prepared to put it in a gallon sized ziploc, but I didn't need to.  It actually held more than enough power so this wasn't necessary.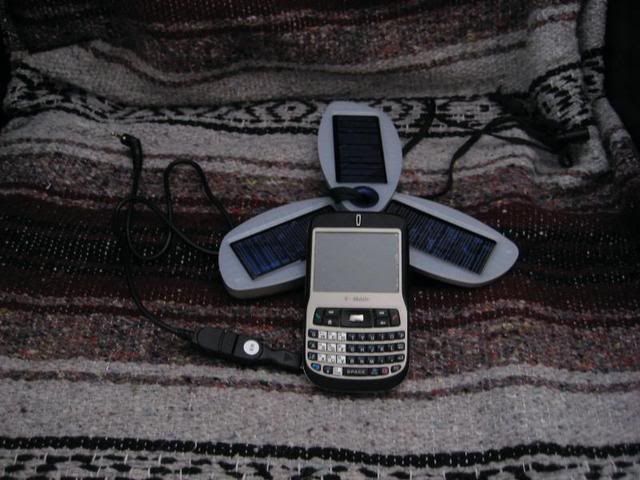 Charging the Solio was simple and is done two different ways.  By plugging it into the wall with the supplied cord, it achieved a full charge in about 4 hours.  If you wanted to use the sun, just open it up and let it charge.  Leaving it out all day provided enough power to charge me up when it was needed.  However, the provided literature stated that it could take up to 2 days to fully charge the device with solar power.  Available sunlight, cloudcover, direct exposure, can all be variables.
On a full charge I was able to power up my phone twice.  However, on the second charge I wasn't able to top it off completely.  The phone would initially show a full charge, but would quickly drop to 75%.  Still, it worked as advertised.
As a side note...  probably the most useful non-essential items on my trip were this Solio, and my Smart Phone (T-Mobile dash).  They worked out extremely well.  Not only was I able to blog while we were on the trip, but I was doing weather checks so we could stay ahead of the storms, and I had stored phone numbers for the Chamber of Commerce for small cities we were going through- which was a lifesaver more than once.  When we fell behind schedule I was able to use those numbers to find alternate camping locations for us while on the road.  Plus I had loaded USGS Topo maps into my phone for the areas we covered.  While we didn't get to use these maps, it was nice to know that I had them.  If you want these maps and you have a phone capable of viewing pdf files, download them here...   http://tinyurl.com/4qol6

Here are the Tech Specs for the Solio:
Solio Classic
Rated Output: 4 -12V, 0 - 1 Amp (max)
Solar panel output: 155mA @ 6V
Weight: 5.6 ounces
Internal Battery: Rechargeable 3.6 volts, 1600mAh lithium-ion
Wall charger: 6v / 420 mAh Global travel adapter with US/UK/EU/AU/NZ adapters
Dimensions (LxHxW): 4.7 x 1.3 x 2.5 in.
Temperature Range: -20°C to 55°C ( -22F to 131 )