In Granbury, I took a pic of all the bikes on this tour (yes all 3).  While we all chose bikes made by Surly, they are all very different.  However, they all fared very well even though Bernie's bike is the only one listed as a Touring bike.
My bike is a Surly Cross Check.  Touted as a Cyclocross bike/Commuter/Urban bike it has shorter chain stays than a true touring bike.  Also, the front fork isn't really designed for supporting front racks.  That said, it worked great.  Yes there was a bit of shimmy with the steel, but probably not that much different than the other bikes.  It handled the adventure quite well.  Loaded with Sackaroo front Pannier bags, and the Topeak MTX trunk bag on the rear.  More than enough space for what I needed.  Especially since I only had a few pounds less than Bernie's bike.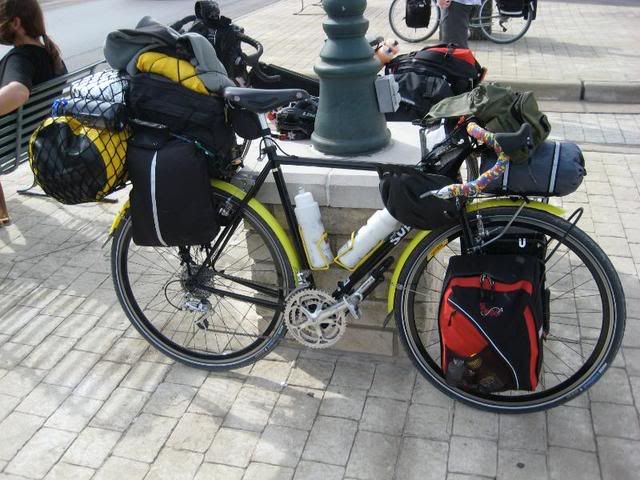 Bryan is riding the Karate Monkey, the 29er Mountain Bike in the Surly line up.  As you can see, his was loaded with only a rear rack.  Loaded with the great Ortlieb bags.  It held everything he needed.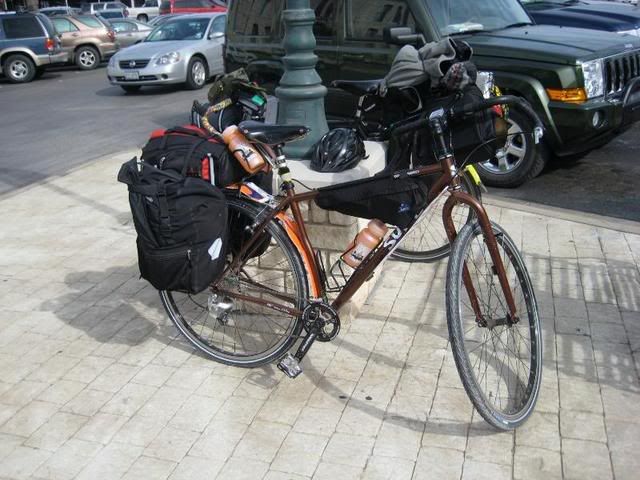 Next up is Bernie on his Long Haul Trucker.  This is the quintessential touring vehicle.  Plenty of places for bottles, bags, racks, and just about everything else you needed.  This thing is designed for heavy loads.  It had the heaviest load, but did just fine.